This is a Sponsored post written by me on behalf of White Cloud for SocialSpark. All opinions are 100% mine.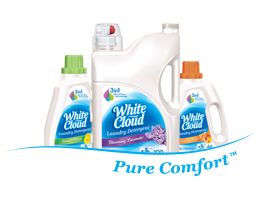 My two boys are super active, and lately that's translated to lots and lots of baseball. For some reason, their coaches insist on WHITE baseball pants for their uniforms. I get it – white does look better than gray. It also gets WAY dirtier, and stains are much harder to get out. The stains are always dirt and grass, and sometimes there's a little extra – Gatorade (I try to keep them off the colored stuff and stick to clear and white, but sometimes you can't avoid the punch flavor), eye black (about as bad as Sharpies), and other foreign materials I don't want to know details about.
So when White Cloud touted their 3-in-1 Micro Clean Technology and gave me the chance to try their laundry detergent as part of their "Dare to Compare" campaign, I had to accept. Here's what I was up against:
As you can see, my boys do a number on their pants! I followed my usual protocol and washed these pants on the "Whitest Whites" setting on my washer (hot water), with an auto-soak and extra rinse. I used a scoop of a stain remover powder and White Cloud Laundry Detergent. After the first washing, here's how the pants looked:
Amazing! Usually, the pants still have more dirt stains after the first cycle and every single pair has to be washed a second time. But as you can see, my older son's pants look pretty darn good!
I'm not quite sure why I took a picture of only two pairs of pants after the second cycle, but I did:
Based on this experiment, I would definitely recommend White Cloud Laundry Detergent. The Blooming Lavender scent that I received was lovely and light (I generally dislike scents so I was pleasantly surprised), and White Cloud detergent is definitely affordable since it is only available at Walmart (Store Locator). In fact, in less than six months since White Cloud's new Laundry Detergent was launched, a leading consumer magazine named White Cloud Laundry Detergent as #1 in value and #6 in cleaning.
Even better, you can get a coupon for $2 off at Facebook! (Disclaimer: Limit one coupon per purchase on product specified. No cash back if coupon value is higher than purchase price. Void if reproduced, transferred, used to purchase products for resale or where prohibited/regulated by law. Not valid on trial sizes. Consumer pays sales tax. Redeemable at participating retail stores. Valid only in the U.S.)
White Cloud Laundry Detergent comes in both liquid and powder form, in 100 and 150-ounce sizes in liquid and a 156-ounce box in powder, and in three different scents: Blooming Lavender (#1 Seller), Summer Breeze, and Tropical Fiesta. White Cloud Laundry Detergent is a part of the White Cloud family of products including bath tissue, facial tissue and paper towels.
Follow White Cloud on Pinterest